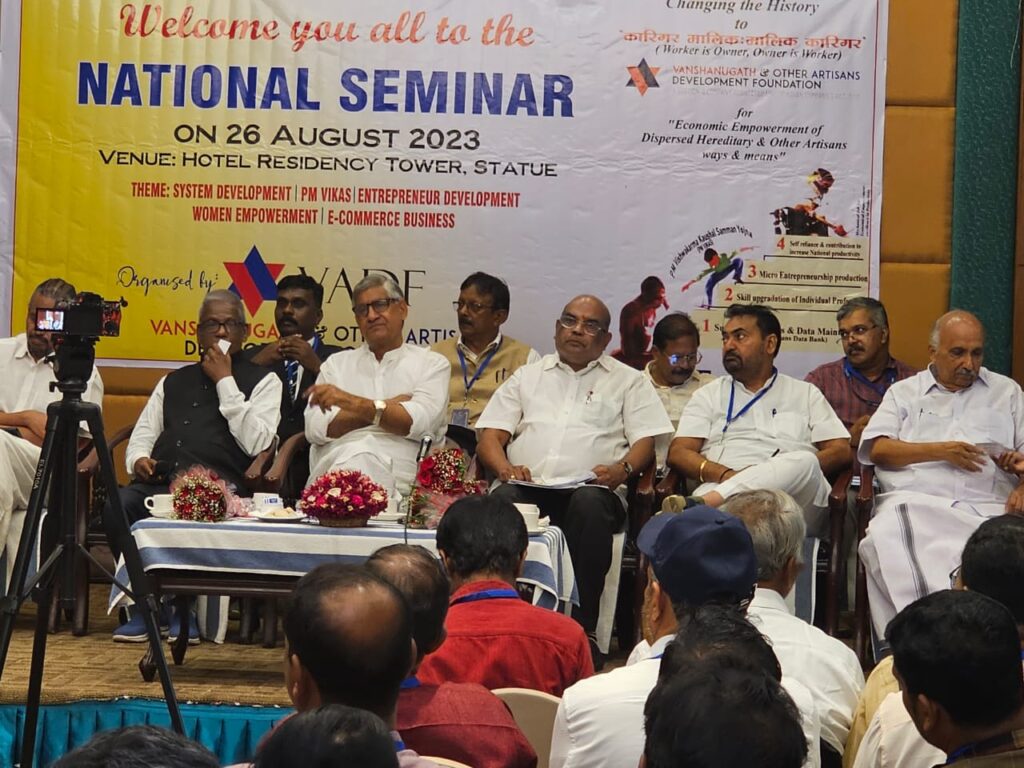 News Edition 24 Desk: Bhilai resident senior artisan and craftsman V. Viswanathan Achari who is putting all his efforts to bring hereditary artisans on one platform, with his hypothetic vision recently organized a National Convention of Artisans on 26th August, 2023 in Thiruvananthapuram (Kerala). Organized under the banner of Vanshanugat Artisans Development Foundation (VADF), in this conference, the demand for setting up the Union Ministry of Artisans Welfare by NDA led by Prime Minister Narendra Modi was foremost.

In the three sessions of the conference, Rajya Sabha MP from Haryana Ramchander Jangra, Retired IPS KP Somarajan and Joint Director of Police Department in Kerala Government Somarajan P.D., kept their views as the chief guest. Along with this, officers of various departments and experts from non-governmental organizations were also invited as experts in all the three sessions.


At the outset Chairman and Managing Director of the Vanshanugat Artisans Development Foundation (VADF) V. Vishwanathan Achari said that it was due to the continuous efforts of his organization that the Central Government announced the establishment of Prime Minister Vishwakarma Kaushal Samman Yojana on the occasion of Independence Day. A special presentation was made on this scheme in the conference. Along with this, the need for setting up Vishwakarma Indian Chamber of Commerce and Industries (VICCI) and Women Artisans Empowerment and Entrepreneur Development Cell was also explained.

Apart from this, the measures to preserve and protect the art and craft of hereditary artisans for the next generation were also discussed in detail in the conference. Mr. Achari said that special emphasis was laid in the conference to create an e-marketing portal to provide a global market to the crafts and products of hereditary artisans, in which products produced by artisans from across the country from Kashmir to Kanyakumari and from Gujarat to Manipur should be displayed so as to get a fair price. He told that in the conference, serious consideration was given to providing assistance in e-preparation for competitive examinations and setting up a start-up for the children of artisans. In the conference, a suggestion to provide adequate provision for the sustainable development of artisans in the resolution-proposal of the Vanshanugat Artisan was put forward.